L/O Meatloaf Shepard's Pie.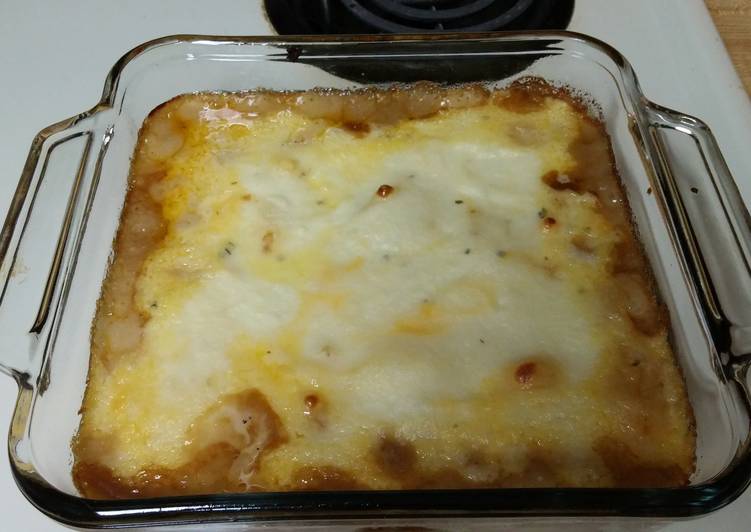 You can have L/O Meatloaf Shepard's Pie using 7 ingredients and 5 steps. Here is how you achieve that.
Ingredients of L/O Meatloaf Shepard's Pie
You need 5 slices of Left Over Meatloaf.
Prepare 2 cup of Frozen or canned Corn.
It's 4 cup of mashed potatoes – fresh or left over.
You need 3/4 cup of shredded cheese.
It's 1/2 cup of sour cream.
Prepare 1/2 cup of sliced green onions – optional.
It's of salt and pepper.
L/O Meatloaf Shepard's Pie instructions
Place crumbled meat loaf in greased 2½ quart casserole..
Cover with gravy; top with veggies..
Combine mashed potatoes with 1/2 cup shredded cheese, sour cream and onions. Spread over veggies..
Bake uncovered at 375°F for 25-30 minutes or heated through. Sprinkle remaining cheese on top and return to oven for about 2 minutes longer or until cheese has melted and starts to brown..
NOTES: I didn't have any shredded cheese, so I just used a couple of slices. Mixed one in to the potatoes and put 2 on top, under them. The sour cream I used had chives in it, so skipped the green onions. Had a gravy pack, which I used, in place of the jar. As I said, had L/O Savory Creamed Corn so just used that up. I would guess that mixed vegetables would probably work well in this. This is a picture of the L/O corn I used. Only me, so didn't worry about the amount..
Tags: #baked #casserole #easy #meatloaf #mochi #pie
Related Post "Recipe: Tasty L/O Meatloaf Shepard's Pie"